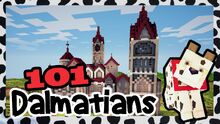 101 Dalmations is a mini-series by LDShadowLady. It was inspired off of Lizzie's then, obsession for 101 Dalmations, and Stacy's DogCraft series.
The series' premise was to collect as many dogs as possible every episode, until 101 dogs are reached. Lizzie managed to collect 101 in 5 episodes.
The finished map for the series can be downloaded here (DecoCraft 2 mod required).
Dog List
Main article: 101 Dalmations/Dog List
Gallery
Main article: 101 Dalmations/Gallery
Trivia
SmallishBeans, Lizzie's boyfriend, helped create the mansion for all the dogs.
Ad blocker interference detected!
Wikia is a free-to-use site that makes money from advertising. We have a modified experience for viewers using ad blockers

Wikia is not accessible if you've made further modifications. Remove the custom ad blocker rule(s) and the page will load as expected.