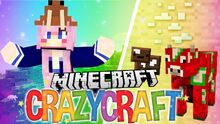 Crazy Craft 3.0 is a multiplayer modded survival series. The server uses the Crazy Craft 3.0 modpack which consists of 60+ mods. The first episode aired on August 23, 2015.
The last episode, which was episode 50, aired on July 8, 2016.
Members
Lizzie's Builds
TBA
Story Arcs
TBA
Crazy Craft War
TBA
Episodes
TBA
Gallery
Main article: Crazy Craft 3.0/Gallery
Trivia
Ad blocker interference detected!
Wikia is a free-to-use site that makes money from advertising. We have a modified experience for viewers using ad blockers

Wikia is not accessible if you've made further modifications. Remove the custom ad blocker rule(s) and the page will load as expected.