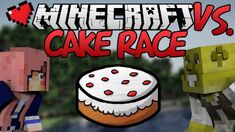 Minecraft VS. was a minecraft challenge series that LDShadowLady did with SmallishBeans.
Synopsis
The premise of the series was to have a challenge on each episode, and whoever finished it first would get a point on the totem poll of victory.
For example; the challenge for episode 9 was the death challenge; whoever could die in the most ways wins.
Episode
episode no.
challenge

name

challenge

description

Lizzie's

score

win/loose

Joel's

score

win/loose

1
cake

race

you have to bake

a cake first!

lost
won
2
animal

taming

you have to tame

a wolf, a horse

and an ocelot

won
lost
3
hippy

challenge

you have to get

one of every flower

in the game

won
lost
4
monster

loot

you have to get

every drop from

every mob

won
lost
5
rainbow

sheep

you need to dye

a sheep every

different colour

won
lost
6
weapons

challenge

you need to get a

sword of every

matterial

won
lost
7
nether mob

drops

you need to get 1

of every drop from

the niver

won
lost
8
pixel art
you need to make

a replica of the

pixel art on the wall

won
lost
9
death

challenge

you need to die 10

unique times

won
lost
10
villager

trading

11
farming

challenge

12
cooking

challenge

13
wolf pack

challenge

14
spelling bee

challenge

15
disney

challenge

16
adventure

time

challenge

17
biomes

challenge

18
easter egg

hunt

19
my little

pony

20
21
Gallery
TBA