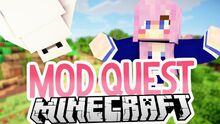 Mod Quest is a modded roleplay series by LDShadowLady.
It ran for only 5 episodes, from August 20, to November 6th, 2016.
Characters
TBA
Gallery
Main article: Mod Quest/Gallery
Trivia
The reason for the series' abrupt end at only 5 episodes, is because at the start, Lizzie wanted to try something new, in this case, a roleplay series, and through the first few episodes, she seemed to enjoy it, but she soon realized it wasn't for her. Lizzie posted a small post on Episode 6 in the comments;

I started Mod Quest because I wanted to try something new. It was fun at first and I enjoyed it but it turns out that minecraft roleplay is just not for me. I have so much respect for creators that come up with cool storylines for roleplays because it's a lot harder than it looks! Thank you for all your support on this short series, I know some people really enjoyed and others did not. That's totally okay! I love it when you guys give me feedback on what I'm doing right and wrong, it really helps me to learn how to make my videos better and that's the most fun part of being a creator :)

The only other series by Lizzie that is technically a roleplay, is CrazyCraft, thanks to this episode.
Ad blocker interference detected!
Wikia is a free-to-use site that makes money from advertising. We have a modified experience for viewers using ad blockers

Wikia is not accessible if you've made further modifications. Remove the custom ad blocker rule(s) and the page will load as expected.