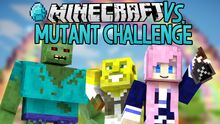 Modded Minecraft VS. is a modded Minecraft series by Lizzie, featuring SmallishBeans.
Synopsis
The main goal of the challenges is to collect and/or craft specific items or mobs in survival while using a specific mod for each episode. The first person to collect all of the listed items or mobs will be declared the winner of the challenge and gets to put a custom head representing the challenge on their scoreboard, the Totem Poles of Victory.
Diamond tools and other specific items are preset for the challengers' use.
Gallery
Main article: Modded Minecraft VS./Gallery
Ad blocker interference detected!
Wikia is a free-to-use site that makes money from advertising. We have a modified experience for viewers using ad blockers

Wikia is not accessible if you've made further modifications. Remove the custom ad blocker rule(s) and the page will load as expected.